Back to The Renaissance
SHS's Madrigal performances have been a staple for the Stoughton community since 1976, bringing merriment and entertainment every year since. This year's madrigals performance took place Dec. 11 in the SHS Performing Arts center. Due to COVID-19 restrictions, the dinner portion of the event had to be skipped, but that doesn't mean Stoughton has lost a prominent holiday celebration.
According to the Madrigal Dinner's program, madrigal singing was brought to England from Italy in the late 16th century as a type of informal entertainment for the nobility and wealthy. Lords and Ladies were taught to sing as a part of their education, and they performed the madrigals as an after dinner entertainment. The songs sung typically dealt with romance, mythological tales, nature, and could sometimes be comical.
Ryan Casey has been the director of Stoughton High School's Madrigal Singers since 2001. His predecessor, John Beutel, first started the dinners as an a cappella group that focused on music of the Renaissance. During the 1970s, madrigal singing was very popular, and Stoughton had its own madrigal choir.
"[Beutel] started the dinner in 1976 so people would have a way to come and see the Madrigals sing, and then it turned into a holiday feast," Casey says. Directing Madrigals without worrying about the meal portion was a new experience for Casey.
"It's strange not planning the meal portion of the dinner. That takes up a lot of my time, doing things like inventory, and ordering, and working with the chefs. It's been different the last two years to not have the dinner portion," Casey says.
Despite losing the dinner portion of the evening, the performance still kept many aspects that make it special.
Head Table is one of the focal points of the madrigal performances. Head Table is comprised of around 16 singers who auditioned the year prior, and they lead many madrigal traditions like the Lords' oaths and the Ladies' rebuttals.
Senior David Stracener, a member of Head Table, describes the qualifications to be a Madrigal Singer.
"It's based on how well you can interpret music, how fast you can learn it, and how well you can perform it in front of other people, because that's mostly what it is. You're performing some really difficult music in front of a lot of people," Stracener says.
Stracener also talked about some of his favorite Head Table traditions, specifically the boar's head carol that Head Table Singers lead.
"One particular tradition, really [it's a] traditional song that we do, is the boar's head carol. There's a group of two guys who were voted into the role of Men at Arms. They carry in a giant taxidermied boar's head, and there's a song Head Table sings during that. It's probably one of my favorites, but it's also one of the favorites of Head Table as well. It's a very cheerful song [that] really brings us all together," Stracener says. Besides the dinner, the Head Table Singers participate in a number of events. Each year they carol down Main Street for the Victorian Holiday Weekend.
"We walk around downtown and sing outside and inside shops while people are doing their holiday shopping. We have a performance […] at the senior center. We carol on State Street in Madison. We do things like rotary meetings, optimist meetings, same thing for the board at the board meetings," Casey says.
Traditions aside, the Madrigal Singers are also known for their fanciful costumes. Last year, performers unfortunately couldn't perform in front of people whilst dressed up, but this year they went all out.
"The original costumes were designed and constructed in 1978. That's when they started adding all the costumes into the dinner. We have people donate every couple years. We'll get another one that comes back, and we can add to the mix. But some of them are in pretty dire shape and they need some love and attention," Casey says.
Regardless of the challenges that this year's performance may have gone through, Casey felt ready to show Stoughton everything the Madrigal Singers had to offer.
"I'm excited we get to do something this year. It's better than last year where we didn't get to do anything, but it'll be nice to be able to get back into having dinner and getting on with the tradition that is the SHS Madrigal Dinner," Casey says.
In addition to caroling and performances, the Head Table Madrigal Singers will also be featured on NBC 15's Sounds of the Season special airing Dec. 24 at 10 p.m. and Dec. 25 at 6 a.m. 

About the Contributor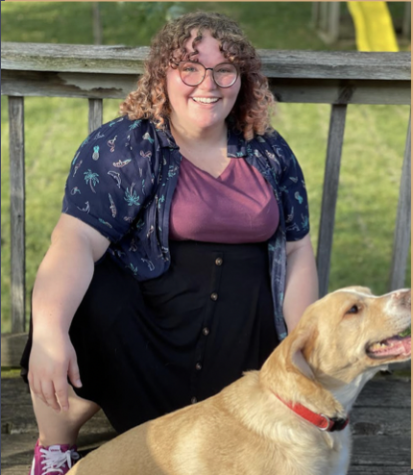 Autumn Evenson, Staff Writer and Distribution Manager
Senior Autumn Evenson is the Norse Stars distribution manager as well as a staff writer. Autumn's favorite part of Norse Star is the atmosphere.

Outside...