An End Meets A Beginning
The end of a semester is a change for all SHS students. Schedules are shaken up, grades are put in the gradebook, and, fingers crossed, you still have the same lunch as your friends. Students will be transferring into and out of classes, and you have to relive that rush of walking into a classroom full of new people.
Well, most of us will experience all of this.
This semester is also an opportunity for seniors who have earned all of their credits to graduate early. Altogether, SHS requires 24 full credits in order to graduate, with required classes ranging from Economics to a CTE class.
Senior Hannah Lawrence made the decision to graduate early late in her junior year, but it was something she had been thinking about since her freshman year.
Lawrence explains the reasons why she decided that graduating early would be the best thing for her.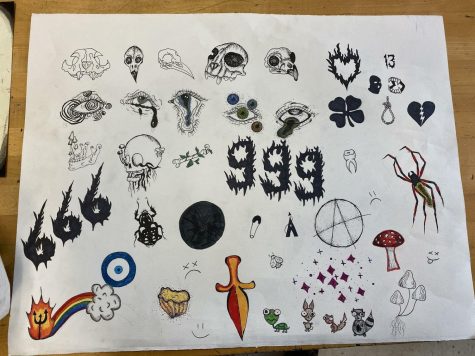 "I'm graduating early so I can work at my current job and start working at my new job in February to save up money for an apartment, so I'll have enough savings during my tattoo apprenticeship [which is] officially starting in October [2022]," Lawrence says. Lawrence wishes to pursue an artistic career in the tattoo industry, taking art classes ranging from painting to ceramics at SHS.
Lawrence elaborates on what drew her to the tattooing: "The fact that it allows you to express yourself not by decorating your home or wearing fun clothes but physically decorating your body, each new tattoo telling a story of where you were when you got it, it's a really cool art form with a great and growing community," Lawrence says.
For Lawrence, graduating early was not as hard as it may seem.
"It was very easy to receive all the necessary credits as I have only taken one study hall. By talking with Mrs. Ash, the school counselor, she let me know what else I needed. But [since I had] been thinking about it for a long time, [it] was really easy," Lawrence says. SHS varsity football player Nate Vagedes also graduated early to pursue an apprenticeship as an electrician.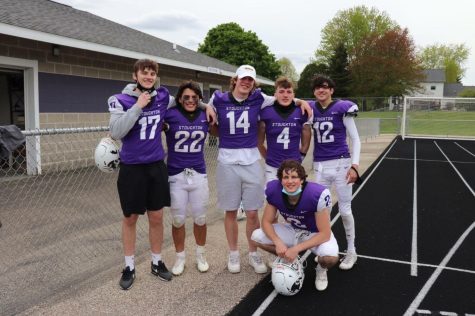 Vagedes explains what experiences motivated him to graduate early.
"[I] made the decision to graduate after all my friends from [the] class of 2021 graduated. I
wanted to be with all of them and be able to visit them at college," Vagades says.
Life pulls people in directions which they may have not initially expected. Those ways may not adhere to what others are doing, but that doesn't have to limit you. Alternative options are there, and sometimes taking them can be more beneficial than taking the normal route, as shown by Lawrence and Vagades.
To those interested in graduating early, Lawrence advises, "If you don't know what you're going to do, continue school. Don't leave early. There is no point unless you need money for college and already have the credits you need for the major you want," Lawrence says, "If you know what you're doing I'd recommend working more often or getting a job if you don't have one […] I would recommend saving and acquiring things you need to move and thinking about college."