Collins Field Renovation Update
How the nearing Collins Field renovations will affect upcoming events, especially graduation
Just outside Stoughton High School is the one and only Collins Field, home to the joyous homecoming and track and field games. This space will soon be known as the Anderson Complex. Collins Field will go through an upcoming renovation which will affect both this season's sports and the upcoming graduation.
The Collins Field Renovation Project will include an installation of artificial turf and is currently being managed by the Stoughton Sports Boosters.
At this time, construction will begin on May 30, 2022, and it will wrap up around September 30, 2022. For this project to be successful, an estimated total of 2.5 million dollars have to be raised. President of the Sports Boosters Club, Steve Lyons, and his team used various methods to help fundraise for this collaborative project. Most of these efforts have been through sponsorships. As of now, a good majority of the money has been fundraised.
"We are really excited and proud of how this community has rallied together to raise these dollars. [We've had] checks from ten to one million dollars come in [to] support this [project]. We've had a lot of individuals, families, businesses, alumni, all contribute to make this happen. [With these donations], not only will we have an artificial field, [but] we're also going to be able to have handicapped seating," Lyons says.
Stoughton Trailers has contributed to the Collins Field Renovation Project by donating half a million dollars. Along with them, the Anderson family has donated one million dollars.
Since the Anderson family contributed the most money and was the main sponsor of this project, the newly developed Collins Field will soon be known as the Anderson Complex. The story behind Keith and Tammy Andersons' sponsorship of the field is just as sweet as their donation.
The Anderson couple has been married for over thirty years now and were alumni of SHS. They were both a part of the band and met on Collins Field as teenagers. Resulting in this specific location to hold a special place in their hearts.
Lyons confirms in an interview that once all the money has been fundraised, the artificial turf will prove beneficial for both the community and the school, as it will have a variety of purposes.
Although both the soccer and football teams hold their practices on the field, due to WIAA regulations, soccer is unable to have their tournaments on the current field. With the artificial turf, soccer tournaments will be played on the field. Along with different sporting events, the band will be able to hold local to national band competitions on the artificial turf, as well.
As much as this renovation will prove to push many events forward, this also means that many occasions will be pushed back this year, including spring sports and graduation.
Track and field and girls soccer will most likely have to push all of their home games earlier in the season. At the same time, the football games in the upcoming season will have to move back most of their home games until after the turf gets implanted, meaning homecoming could possibly be delayed, depending on how long the renovation will take.
Graduation this year will be held indoors, specifically in the SHS main gym. As of now, graduation will be on the first Sunday of June at 11 a.m. However, plans could change. Another important note is that along with the location change, due to spacing, each graduating student will receive only a maximum of six tickets, meaning only six people per student are allowed to attend. Once again, plans could change, but this is the target.
SHS principal Mike Kruse has tried to find multiple ways to prevent graduation from being in the main gym. However, it could not be avoided due to unavoidable circumstances. After talking to higher officials about pushing back the start of the renovation, the idea ended up being disapproved due to the limited time frame.
"I've walked that path the best I can. I thought we [could] maybe push back [graduation] to late mid-May […], but I can't graduate [the seniors] a month early. It just isn't [going to] happen," Kruse says.
Kruse further elaborates on the changes in graduation this year.
"[Before my time as principal], all graduations were inside the gym, and we've had graduations in [the gym] maybe three times since I've been here, […] and [it has] worked out fine. […] We can stream the whole ceremony […] so that people can watch from home […] if they choose."
According to Kruse, holding graduation in a different location such as the Alliant Energy Center and the Coliseum would prove to be difficult, as they are both booked for other graduations. Furthermore, having an off-site location would cause significant challenges to accommodate everyone's needs due to transportation issues.
The order of the ceremony will stay the same, and except for the location, nothing will be out of the ordinary.
Although many events will be pushed back and performed differently due to the Collins Field Renovation Project, both Kruse and Lyons believe that the result will be worth the sacrifices.
"Yeah, [graduation] will be fine. It will be good." Kruse says.
About the Contributor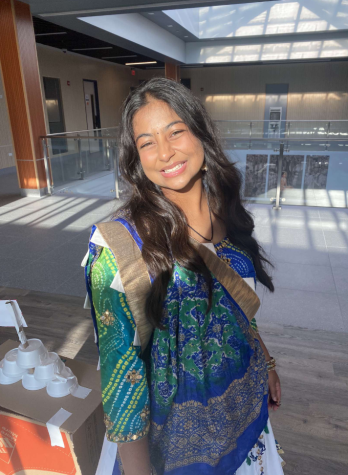 Bhoomi Patel, News Editor & Distribution Manager
Bhoomi is a senior and this is her second year on staff. She is also involved with key club and student senate.

In her free time, she enjoys reading...