Breaking Records on Land and in Water
The 2022-23 Stoughton High School fall sports season has already started, bringing two new school record holders with it. Freshman Cheyenne Borroughs and Senior Mallory Reiser have created new school records, with Borroughs setting the 100-yard breaststroke in girls swim and Reiser setting the 5k (3.1 miles) in girls cross country.
On Sept. 8, Borroughs broke Stoughton's 24-year-old school record of 1 minute, 7.65 seconds set by Amber Castleberg in the 100-yard breaststroke during a Badger East Conference dual meet against Monona Grove. Borroughs clocked in with an impressive time of 1 minute, 7.24 seconds.
On Sept. 24, Borroughs also broke the 100-yard breaststroke record again with a new time of 1 minute, 6.7 seconds at a girls swim meet in Jefferson.
At the same meet in Jefferson, Borroughs also broke the 200 IM (a swim event which includes butterfly, backstroke, breaststroke, and freestyle) with a time of 2 minutes, 13.37 seconds, with the record previously being set by Maddie Koomia in 2017.
Although this is Borroughs' first year on the girls swim team, she comes from a long line of record-breakers.
Borroughs' older sisters, Cora and Savy, were also avid members of the Stoughton swim team while in high school, with Cora graduating in 2022 and Savy in 2021. Before graduation, Savy was a part of the team that broke the 200 freestyle relay and the 400 free relay whereas Cora broke the 200 free relay.
Borroughs cites her sisters Cora and Savy as the main reason she joined swim in the first place.
"My older siblings were doing [swim], and they seemed like they were having a lot of fun, so I decided to join," Borroughs says. Borroughs has been competitively swimming since age eight when she joined Stoughton Aqua Racers (STAR), a swim organization created over 20 years ago in Stoughton.
Although Borroughs has been swimming for many years, Borroughs still faces many challenges.
"Physically, it's definitely very tiring," Borroughs says. "But mentally and emotionally, you can become [affected] if you don't get a good time, and you can really take that out on yourself, and that will affect how the rest of your performance will go."
Borroughs also has advice on how to cope with these aforementioned challenges for newcomers interested in joining swim.
"Don't be too hard on yourself because swim is a very challenging sport, and it takes a long time to build up and become better [at],"
Borroughs says. "With just staying in the water, practicing, and listening to your coaches, you're going to do well no matter what."
Borroughs is not the only new record-breaker at the high school this year. On Saturday, Sept. 24, Senior Mallory Reiser set Stoughton's Girls Cross Country team's record in the 5k during the Midwest Invitational at Blackhawk Golf Course in Janesville. Her time was 18:57.7, replacing the old school record of 18:58 set by Nikki Staffen in 2014.
"[Breaking the record] was so exciting," Reiser says, describing the impressive 5k run. "It was really close. I was crossing the finish line, and I could see that the clock was under 19, which was one of my main goals, but I wasn't exactly sure about the time. When I saw the official results, it was super exciting."
Reiser says her goals for the remainder of the season are to go to conference again along with going to state, an accomplishment she has already achieved.
After high school, she plans to run cross country in college.
Although this is her fourth year on the high school girls cross country team, Reiser has been in competitive cross country since middle school.
"My friends were doing it, and I wanted to give it a try, and I ended up really liking it," Reiser says. "I did [girls cross country] in seventh grade, and then I quit in eighth grade because I did not like it at all. But then I gave it a try in high school and ended up really liking it."
When asked about her main inspiration, Reiser cites her teammates.
"It's really cool seeing [my teammates] grow and get better across the season," Reiser says. "They really motivate me."
Since Reiser has been in cross country for years, she has advice for newcomers interested in the sport.
"Stick with it because I did not like it at all at first, and now I absolutely love it," Reiser says, sharing her personal experience with the sport.
"And be patient," Reiser adds to her advice. "I know that running is really hard at first, but just put in the work, and everything will come together."
Although Borroughs and Reiser have faced the ups and downs of their respective sports, they have also set new impressive records and are leaving behind legacies that all athletes alike can aspire to.
Leave a Comment
About the Contributor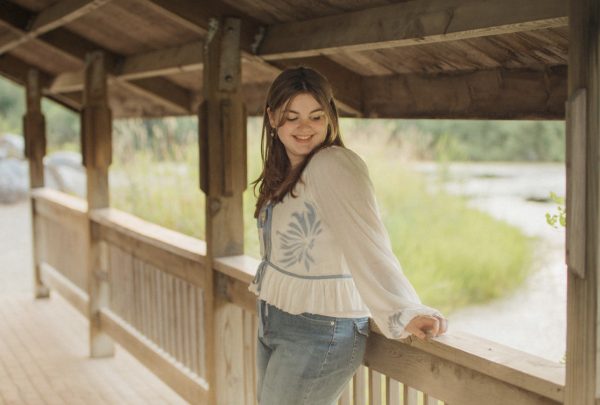 Madeline Monthie, Features Editor and Social Media Manager
Madeline is a senior, and this is her third year on staff! She's the features editor and social media manager. She joined the Norse Star because she loves...