Madison for Mandela
Before Election Day on Nov. 8, 2022, Wisconsin Senatorial Candidate and current Lieutenant Governor Mandela Barnes held many events in attempt to garner more support for his campaign along with encouraging residents of Wisconsin to vote. Several of these events were held in various Madison locations on Nov. 4, 2022.
The day started with a Madison Early Voting Event at the Graze restaurant with speakers Tammy Baldwin, LeVar Burton, and Mandela Barnes. Incumbent Senator Baldwin spoke first, with actor LeVar Burton following her speech. Lieutenant Governor Mandela Barnes closed the event with a speech about his policies and the power of voting.
The event began at noon with a speech from Baldwin in which she showed her support for Barnes along with expressing her belief in the power of voting.
"We all have to remember that in Wisconsin, races are won by fractions of a percent," Baldwin says. "It's about getting people out to the polls and getting people to recognize their own power."
Burton followed Baldwin, spending a portion of his speech expressing his support for Barnes and his disdain for opposing candidate Johnson.
When it was his time to speak, Barnes communicated his support for abortion access, affordable healthcare, his opposition to tax breaks for wealthy corporations, his support for gun control, and the need for voter turnout. He also spoke about how his upbringing shaped the person who he is today.
"This is a fight to make sure that […] the American dream can be realized," Barnes says. "That every child growing up, regardless of their zip code, has at least the same opportunities that I had."
The second event of the day for Barnes, a UW-Madison meet and greet at Valentia Coffee, began at 2 p.m. Barnes made his way through the crowd, shaking the hands of many supporters and undecided voters alike.
When asked what issues she considers most important, Kristen, an audience member at the meet and greet at Valentia Coffee, expressed her concerns.
"Making sure that voting is accessible," Kristen says. "Making sure everybody is registered and making sure everybody knows how to register."
Republican candidate Ron Johnson was re-elected as a Wisconsin State Senator for a fourth term, beating Democratic challenger Mandela Barnes. He will continue to serve with Tammy Baldwin, his third term beginning in 2023.
Barnes conceded to Johnson on Nov. 9, 2022. He will continue to serve as Lieutenant Governor under Governor Tony Evers until 2023.
About the Writer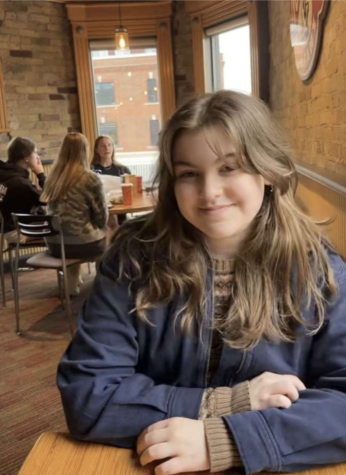 Madeline Monthie, Features Editor
Madeline is a junior and this is her second year on staff. She is also involved with key club and student senate. In her free time, she enjoys reading,...