Eatin' At Ian's
It was a dark and snowy night when a group of Norse Starians and non-Norse Starians alike set out to grab a bite for dinner at Ian's Pizza, a restaurant located in the heart of State Street. The restaurant was not too busy but not too barren either. Ian's, at 100 State St, is situated in downtown Madison at an efficient, semi-populated spot. Ian's served the classic pizza-place enjoyable experience, which we all appreciated.
SERVICE
All parties agreed that the service was very polite and helpful. The food came out fast, although one Norse Star staff member described the service as "good, but kind of rushed."
The food was served on paper plates, which one customer said that they would change to glass plates were they in charge.
"It would look better, be better for the environment, and have better presentation," the customer said.
ATMOSPHERE
The decorations inside Ian's are a friendly yet powerful tool that pulls you into the restaurant. The spacing and placement of the tables make the place seem expansive and inviting, with an enjoyable arrangement of various decorations on the walls as well. The space was clean, and the lighting created a nice atmosphere, one even able to be appreciated at night. Dark red aaccents complement light tan walls—as if the building was modeled after a pizza itself.
As one customer put it, "The first thing that struck me was the interior; the early classical revival style of the red crown molding against the lofty tan ceiling and walls complimented well the base composition of pizza."
The space clearly directs you to the line in which you're meant to go as soon as you walk in. The menu placement, lining the upper wall with a sizable font, lets you see what you can order (with many options available). Not only pizza is served at Ian's, but desserts and salads are, as well. Although, the consensus from one staff member, who ordered a Churro Chow Desert, was that the pizza was the best food they had to offer. Within the group, we ended up picking four different options to review.
FOOD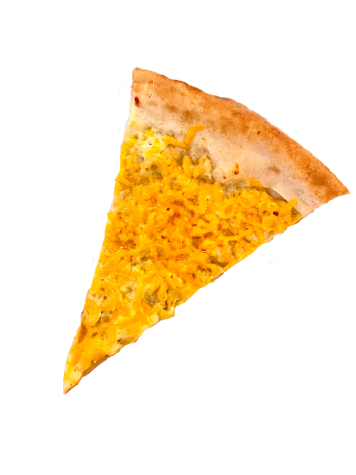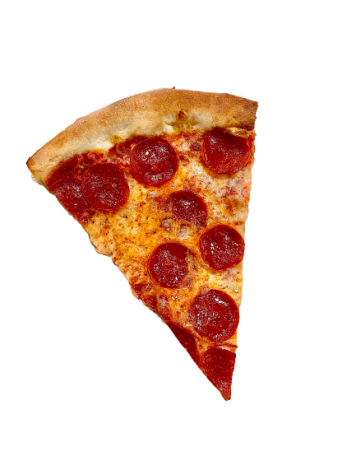 $4 Pepperoni Pizza Slice – "The pizza tasted amazing, and the crust was a great texture." — one satisfied customer.
$5 Mac 'N' Cheese Slice – "It was a good quality for the price, and was worth the drive into Madison." — Norse Star staff member. "The food was really good, especially the pizza. My only complaint was that the crust was a bit thin." — Norse Star staff member.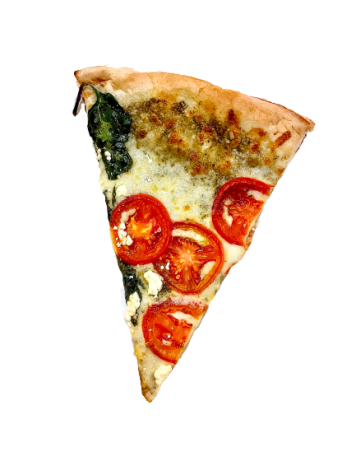 $5 Tomato Pesto Slice – "The pizza crust was perfect, a delightful combination of a crispy bottom below a chewy texture. The slice of pesto and tomato was bright and refreshing, with smooth, mild pesto and fresh tomatoes. Also, I'm a fan of their digital soda fountains, with hundreds of beverage choices." — an Ian's customer.
$18 Vegan Supreme Pizza – "The crust was crunchy and thin, and there were loads of toppings.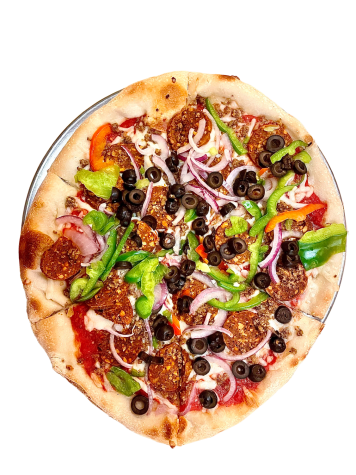 There wasn't a slice option available for this particular vegan selection, so I ordered a 12-inch pizza instead. It was a bit spicy, and the vegan flavors were pretty convincing. The vegan cheese was a bit off-textured and watery, but it was good as far as the taste goes." — Norse Star staff member. "Save for the vegan cheese, which had the consistency of runny mucus, the vegan pie was more flavorful than I expected, owed mostly to the delicious, tangy pizza sauce." — an Ian's customer.
FINAL NOTES
Everyone agreed that they would come back to Ian's, and encourages any readers to try it out as well if they're planning to head into Madison.
"I would recommend Ian's to a friend because they had a wide variety of pizza and drinks. I'm sure anyone could find something they enjoy there," one customer says.
Similarly, one Norse Star staff member commented that "I would go back and recommend it to a friend because it's good, not too expensive, and in an ideal location. The restaurant's interior was also cute."
As far as pizza places go, this is one of the more high-quality ones I've seen. They have some unique options, and they cater to many kinds of dietary restrictions, including to those with vegan and gluten-free needs. This, combined with their good food and fun atmosphere, is why Ian's Pizza gets a 4.5/5 star rating.