The Next Generation of Dancers
Our Stoughton Dance Team has a lot of new opportunities this year, like performing in competitions and at sports games. They also have a new program for the younger generation of dancers, which started this year. These experiences will allow the team to expand their dancing abilities, improve their teamwork, and encounter new challenges.
"I made this program because there are a lot of kids in our community who love dance, but can't necessarily afford to pay a studio tuition," Stoughton Varsity Dance coach Audra Jensen says. ¨What we did is we made a small program, [with the] cost of about $100 for the entire year, and they still get to be treated the same. They're going to compete– they practice like normal teams without the headache of studio charges."
Jensen explains her experiences in Stoughton and her opinions on the Stoughton team.
"This is my second year here at Stoughton. I've been coaching six years now, but Stoughton is definitely my favorite place to be coaching," Jensen says. "[My favorite parts are] the 'aha' moments when all of the repetition and […] hard work finally pay off, and the look on the athlete's face [in] that moment is priceless for myself as a coach."
The teams consist of a mini team, ages 4-6 years old, an elementary school team, and a middle school team, which started on Labor Day weekend this year. They continue to practice every Sunday. These girls worked hard throughout the season to prepare for their upcoming performance.
Something that Jensen feels these girls have taken away from this opportunity of dancing is that "they found friends that don't necessarily go to their school, but they have this bond of being a part of a team for a sport that they love," Jensen says.
After learning their routines for several weeks, they performed at their showcase performance on Nov. 20 at SHS. All teams performed, and the Stoughton Varsity Dance Team performed their solos and duets, along with their pom routine. Jensen reported that the gym was at max capacity.
The coaches of the mini-team were juniors Emily Midthun and Hannah Saari. Even though the mini-team does not participate in competitions, they ended their season at the showcase to wrap up everything. Midthun shared how she thought the mini-team did at their showcase.
"I thought they did awesome! It's hard to remember dances at that age, but they did, and they performed great!" Midthun says.
The elementary and middle school teams' seasons continue for longer because they participate in competitions. Their first competition was the Watertown Spirit Invite on Dec. 10. It was an all-day event hosted at Watertown High School. The coaches of the elementary school team are junior Hannah Saari and senior Ella Lanoway.
"I think the elementary team did so well at the competition. I'm so proud of them for all their hard work. They have been practicing so much and are such a fun and positive group. They even managed to place fifth," Saari says about the Watertown Spirit Invite after the elementary school team performed their routine.
The coaches of the middle school team are junior Emily Midthun and junior Eliana Thomson. Midthun expressed what the two thought about the middle schoolers at their first competition.
"At our last competition, the Watertown Spirit Invite, the middle school team was competing against 13 very good teams, so I thought they did very good considering the competition they had," Midthun says.
Thomson adds what she thought about the competition.
"I was so incredibly proud of the girls' performance at Watertown. It was really special to experience their happiness with them as a coach," Thomson says.
On Jan. 21, the middle and elementary school teams will compete at the JEM State Dance Championships competition and that will conclude their season.
This being the first year of the Stoughton Dance Program, the coaches shared that the girls learned so much from each other and their coaches, Midthun, Saari, Thomson, and Lanoway. They worked with each other to make these girls be the best in every way that they could.
"I have loved coaching for the middle school team, and I look forward to continuing to coach with the program next year as well. This experience has been really special, and I have enjoyed sharing my love of dance with our next generation. I am so happy that our program has been able to bring joy to so many kids this year, and I can't wait to continue next year," Thomson says.
"I love all the girls I coach so much. It's such an amazing feeling to watch them improve and find their love for dance, and I love being a part of it," Saari says.
"I love to see the progress the girls make throughout the year, and we hope to help them prepare for the varsity team when they reach high school," Midthun says.
"I don't know if dancers always get the recognition that they deserve, but these kids work just as hard as every other athlete in the school, and I hope people realize that," Jensen says.
The kids and coaches learned a lot from the opportunity to experience this program, and it impacted many people in our community.
The Stoughton Dance Program gave the younger girls the chance to participate in a dancing environment with their team and find their new love for dance.
If you are interested and want to know more about the Stoughton Dance Program, you can check out their website at stoughtondance.com. You can also go to their Instagram pages @shs_dance and @stoughtondanceprogram.
About the Contributor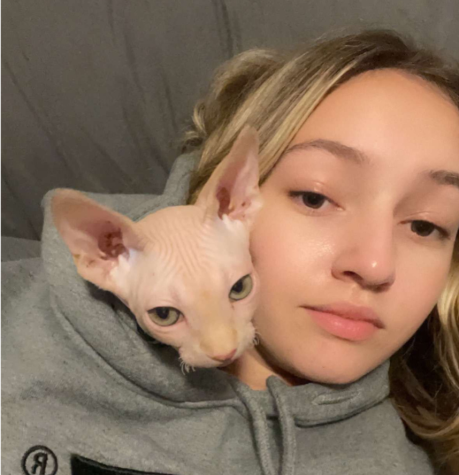 Bella Patrinos, Staff Writer
Bella Patrinos is a junior and this is her first year on Norse Star.

Outside of Norse Star, she is involved with cheerleading and viking marching band....