Living For The Little Things
INTRODUCTION
While social media plays an enormous role in our lives when it comes to entertainment, it also plays a role in the sourcing of our news. It's not exactly the worst place to get information, but it's also overwhelmingly negative most of the time. It's impossible to count the number of times the algorithm has shown something that's hard to move on from—yet, there's much more to life than just that. It's the end of winter, the beginning of spring. Life is blooming around us. Charities are giving, gardens are growing, animal rescues are taking care of humanity's oldest friend while they take care of us in turn through service training programs. Life is more than what the news gives credit for.
COMMUNITY GARDENS ALL CLOVER STOUGHTON
ith the newly arriving spring and blooming plants, gardening has reappeared as well. Stough- ton has a green thumb of its own in the form of commu- nity gardens. There are two, one located near the Stoughton United Metho- dist Church (SUMC) close to Stoughton High School, and one located near Lowell park. Tamara Mehring, who plants at the garden near the SUMC, has been gardening there for 12 years.
"I just wanted to grow more than was available in my yard, [and] I knew the church had gardens, so I reached out to them," Mehring says.
SUMC's garden supplies users with water and a compost bin for garden needs. The plots are tilled before gardeners start planting their seeds, which happens around May. This relieves a little stress from the gardeners, and makes it even that much easier to become involved with the garden. As it stands, planters or planters-to-be just need to reach out to SUMC and pay a fee of $30 to get a plot of their own. You don't need to be a member of the church itself, since the church only sponsors the garden.
Brian Mueller, another garden-user at SUMC, explains what's asked of the gardeners when planting.
"[The coordinator, Tom Olson] just asks that you maintain it, take care of the weeds, and dispose of them properly," Mueller says.
Simply, there's not much you can't do when it comes to planting, besides growing anything that would block out the sun for other plots. The plots themselves are approxim- ately 10×30 feet. Mehring's garden houses vegetables of all sort, along with flowers she uses for bouquets.
Similarly, Mueller grows tomatoes and peppers. Lily Talbert, a Stoughton High School senior, plants wildflowers, fruits, and vegetables. If it seems like too much of a harvest, the church encourages people to donate to the local food pantry, either by leaving their harvest with the office or donating directly.
"I try to eat [the vegetables I grow], but I end up having more than I need, so I'll end up giving a lot away. I'll take a lot to work. […] Everybody loves getting fresh vegetables, especially tomatoes. There is nothing like a fresh tomato compared to what you get in the grocery store," Mehring says.
More than plants grow at community gardens too. Human relationships devel- op, as it's a calm place to gather and chat while the sun is low and morale is high.
"Sometimes on a sum- mer evening, we're all hanging out there garde- ning, talking," Mehring says.
Mueller has similar sentiments about the social opportunities the garden has.
"I've got friends that also garden there, and so, it's a chance for us just to catch up while doing some work and see how we're doing. It's kind of like a community gathering pla- ce," Mueller says.
Besides the benefits of the community, there's also the knowledge you're eating healthier, too. Fresh produce is healthier than processed. From there, it's easy to develop recipes and well-made goods.
"I'm on the production side, and then I hand it over to my wife. We make about a year's worth of marinara sauce and then some other Italian sauces, such as pizza sauce. We also take the tomatoes and peppers [and] make homemade salsa. The beans we kind of just pick and use for dinners. […] Then [we'll make] BLTs with roasted tomatoes, so that's always one of my favorites," Mueller says.
Of course, gardening is more than just the food you make. Samuel Centre for Social Connectedness and their website, socialconnect- edness.org, specifies how good gardening is for the earth. It encourages biodiv- ersity by providing places for bees to pollinate. Plants alone contribute to the production of oxygen and absorption of carbon dioxide in the atmosphere, which is so important it shouldn't have to be explained.
"Any time we can have more flowers blooming, butterflies flying around, and bees pollinating, that is going to be helpful. It's really pretty to look at if you're walking in that area. It's just nice to see things grow so colorful," Mehring says.
Promoting natural life is necessary for creating a healthier environment, and it can be accomplished through small efforts such as local gardens, even without such intention. The presence of greenhouse gases in the atmosphere grows with the usage of fossil fuels. Ultimately, those trapped gases grow with transportation—like that of trucks that deliver goods to grocery stores. Producing a person's own food is one step towards the revival of the Earth, and doing so is pretty simple.
"I would say it's definitely less [that I go to the grocery store]—I defin- itely eat more vegetables in the summer because I have them and they are fresh. I still like to go to farmers' markets to get those things that I don't grow," Mehring says.
And, past bettering the environment and creating a little bit of a healthier life for yourself, there's still more. In its most basic form, it's about the conne- ction between life and life, best explained by Mueller.
"It's really rewarding— besides the weeding—it's a rewarding experience just to be in control of where your food is coming from. You have that connection. When you're eating the fruit [and] vegetables you grow yourself, it always tastes just a little bit better. It's coming right from the ground and onto your plate," Mueller says. "I think it's just a really neat way to kinda get in touch with the land, and it creates a little bit more awareness and where stuff comes from. You have stuff that you'd normally find in the grocery store."
PAWS-ITIVITY
The Dane County Humane Society houses many animals at their shelter, from dogs and cats to horses and mice. There is also a wide variety of wild animals—such as squirrels and raccoons—that can be taken into their Wildlife Center.
Amber Middleton, a Humane Educator at the DCHS, explains some of the ways that they spread the word and get their name out into the community.
"DCHS often hosts information booths at community events. […] We also host dog and cat days where we provide services and foods to communities that might have less access to those resources," Middleton says.
The DCHS also has programs, such as the Our Pets for Life program, that reaches out to specific neighborhoods who don't have much access to pet care. A majority of the programs that Middleton organizes have an emphasis on involving kids.
"[I] give presentations and introduce people to our education animals. We have a corn snake, guinea pigs, and rats," Middleton says.
A big challenge that Middleton faces is when animals stay at the shelter for a long time without getting adopted. For the DCHS, it can be hard to see the animals not getting any interest from people.
"One of our dogs, Shelby, has been at the shelter for over 100 days. We get to know these animals and it doesn't always make sense why someone hasn't adopted them yet. It can be challenging not to want to take all of the animals home and rescue them myself," Middleton says.
Shelby has been in the DCHS since Dec. 2, 2023. She was found by staff at a hotel in Madison tied to a tree.
"Since arriving at DCHS, our staff have worked to make her comfortable while she waits to find her new family," Middleton says.
Shelby likes to play fetch, soccer, and tug of war. She's looking for a family where she can be the only pup. Shelby is also a member of the Lonely Hearts Club, and her adoption fee was reduced due to that.
The Lonely Hearts Club is a club that helps animals that have been at the DCHS for a long time. Most of the animals have been overlooked or have medical conditions. If you go to the DCHS, their logo can be found on the animal's cage. They might have a discounted adoption fee or other incentives for adoption.
Readers can check out the DHCS website at https://www.giveshelter.org if they are interested in adopting or fostering one of their animals. People can also help by donating money or items the shelter needs.
OccuPaws is an organization that trains dogs to guide the blind or visually impaired. Barb and Mark Schultze run the organization, which is based out of Madison and Milwaukee. The dogs in training go with their handlers to schools, from elementary all the way through college. Jelaine Olsen is one of the many volunteer raisers at Occupaws. She has raised four dogs since January 2021, and is starting on her fifth dog this year.
The dogs live with the volunteers in their homes to learn basic skills such as socialization, potty training, and confidence until they are ready for harness training.
"Volunteer raisers, like myself, make sure the puppies get lots of social opportunities. I bring my dogs to school with me. It makes them very confident, which is what they need in order to be a guide dog," Olsen says.
The dogs are moved and trained by their final trainers, ensuring they are prepared to become guide dogs. They then go through another program, at a prison where the inmates get the opportunity to train them for a few months.
The dog's final training test, harness training, can take about four to five months. This will determine whether they can go on to becoming a guide dog and get their certificate. During the final test, the trainer will blindfold themselves, and the dog will guide them through busy public areas. This is repeated multiple times to make sure the dog is ready.
The dogs are usually around two years old when they are finally ready to become guide dogs. On average, one out of four of the dogs that are trained go on to become a certified guide dog.
The dogs that are not certified don't necessarily fail, they simply get a career change. They will find another job, such as a therapy dog or even a family pet. OccuPaws makes sure to find a place where the dogs will be the happiest.
Most of the dogs come from OccuPaws' breeding program, while others come from alternative breeders who donate the dogs. From OccuPaws' breeding program, they raise specific breeds like labs, golden retrievers, and standard poodles.
People who want to train or become a volunteer for a service dog, there is a great deal of responsibility that comes with it due to it being a full-time job.
"We love taking the dogs places, but it always takes longer. I don't just quickly run to the grocery store. I bring the dog with me for an extra training opportunity," Olsen says. "[…] If you have a younger puppy, you need to be ready for potty training. You need love and patience if you are going to take on this responsibility."
Olsen has been a volunteer service dog trainer for two years, and she has fond memories of traveling to schools and interacting with the children.
"One relationship that was really special was a little girl who had just started our preschool program. She is deaf and did not use sign language at the time. I had Dolly [a guide dog in training] at the time. Dolly was very gentle with this little girl, laying by her so she could pet her. The girl started singing 'dog' and 'more' so she could give Dolly more treats. They had a very sweet relationship," Olsen says.
A MOMENT OF CHARITY
The Clothing Center is a volunteer-run organization in Stoughton. They offer a large selection of clean, gently used clothing for infants, children, and adults. The Clothing Center started up in 1990 where it was originally housed in the Dane County Human Services building. People could attend by making an appointment, or volunteers would pick out clothing for people based on request. When DCHS moved, the Covenant Lutheran Church, located at 1525 N Van Buren St in Stoughton, offered space for The Clothing Center in 2021. Since then, they've grown in popularity and their foot traffic has increased.
"We are 100% powered by the energy of our wonderful volunteers. All of our clothing is donated by individuals, organizations, and through local clothing drives, such as the amazing clothing drive sponsored by the Stoughton High School Student Senate this winter," Liz Menzer, the director of the Clothing Center, says. "We value our partnership with Covenant Lutheran Church for space, and we are fortunate to have received funding from the Stoughton Community Foundation. We've been able to expand our hours, so more people have access to the Clothing Center."
Menzer works to recruit and coordinate volunteers and maintains the organization's website and social media. She is also the contact point for special requests, local needs, or large donations.
"The Center was closed during 2020 due to the pandemic, and the former coordinator had other commitments," Menzer says. "I was asked to help relaunch the center in 2021. I was aware of the need for clothing, especially for kids, and I liked the idea of reusing and recycling clothing to keep it out of landfills."
As the economy has gotten worse, The Clothing Center has increased in popularity.
"The Clothing Center is a way for families and individuals to stretch their budgets for other items, like food or gas," Menzer says.
Shoppers at The Clothing Center tend to be women, ages 24-50, who are shopping for their children. Menzer explains how the organization finds that kids feel happier at school and feel they can fit in better when they have "new" clothes.
"When people look good, they often feel better," Menzer says.
The Clothing Center has assisted many soon-to-be parents and grandparents prepare by providing infant clothes and snow gear to help with the Wisconsin weather. The Clothing Center has outfitted a groom, hosted back to school clothing events, helped new job seekers with interview-ready outfits, and aided new student teachers to be equipped for the classroom.
"First-time visitors are always pleasantly surprised at how clean and well organized the Center is and comment on the quality and selection of clothing. They also mention our kind, supportive and nonjudgmental volunteers. We love when a young shopper finds an item in their favorite color with a popular logo or when we can fill requests from START or social workers for warm winter wear," Menzer says.
The Stoughton Area Resource Team (START) is another nonprofit volunteer-run organization in downtown Stoughton. Their mission is to provide a safety net to residents who live in the Stoughton Area School District and provide support in housing, utilities, transportation, and education.
"It started with a group of professionals [21 years ago]. There was pastoral care from local churches, and other social workers who saw people who were seeking financial assistance or […] other resources," Laura Braund says. "They all pulled together and tried to figure out like, 'how can we develop an organization that is central and can help the people in need?' So that's how we got started."
Braund volunteers as the Executive Director of START. She takes care of the overall management of the organization and provides case management, which involves meeting with households individually to find out their needs and how START can help. Braund works with only one other volunteer, who works a five-hour week as Admin Assistant. Braund also manages financing, marketing, meetings, and collaborations with other service organizations to make a larger impact.
START is 100% funded by donations. They get many grants and are supported by foundation churches, small and large businesses such as Commons, and they also partner with United Way, who provides them with financial assistance. Many individuals donate clothes, shoes, household items, and miscellaneous essentials.
"We have had a number of people recently who have gone from homeless to house. […] We've been able to help them pay for their security deposit so that they can have their own independent living," Braund says. "It's a healthier lifestyle for everyone if they can have their own house versus having two families live in the same really small apartment."
Another thing that START does is make sure that kids don't have to move schools due to their living situation.
"There are statistics that show how kids have a greater educational outcome if they stay in the same school district," Braund says.
She also wants to keep people from experiencing insecurities, whether it's because they don't have food, clothes, or a car. There have been times when a family doesn't have a source of transportation to go get food, so Braund would go to the food pantry for them and then drop it off at their place of living.
Braund is in her office every Tuesday from 9 a.m. to 3 p.m. and Thursday from 12 p.m. to 5 p.m. She gets many messages or emails during times when she's not in office, so she does her best to help when she can.
"I try to be super accommodating both with donors and with people that we serve. A lot of people who donate are either working or not available during the day, so I pick up things at their houses. […] I just want to make it work. People want to donate, I want to receive them. You make it happen, whatever you got to do," Braund says.
START does have some limitations with what they can take from donors. They have a very small storage unit, so things like couches are hard to accept unless there is already a pending request for one. Mattresses are also difficult to accept, especially from unfamiliar homes or donors, because of the concern for bedbugs. Clothes are something that START normally does not obtain from donors.
"It's not that we don't want to accept them, but The Clothing Center in the Covenant Lutheran Church has this great operation going. So, I direct people [there], not because I don't want to be helpful, but it's like, why duplicate an awesome thing that they have going? And then I can support them by saying, 'you guys should go there,'" Braund says.
START assists people in the Stoughton Area School District, including Pleasant Springs, Dunkirk, Rutland, and Dunn.
START offers services to households where the parent or adult is 54 years or younger. The reason for this is because The Stoughton Senior Center provides support to individuals ages 55 and above. If a household with multiple generations requests help from START, they will get that help, but if the request is more elder-care specific, START will leave that to The Senior Center.
In 2022, START served 163 households. Additionally, of the households that START assisted in January 2023, approximately 90 kids were living in poverty.
"Our goal is to help them thrive, so ideally take them from a position of living in crisis or some type of poverty level, and either increase their income, or prevent them from being evicted or kicked out of their housing," Braund says. "Our goal is to make their lives better and lift them up from the spot that they're in. [It's about] finding out the needs of all of the members of their house and making sure everyone is able to live happy, healthy, sustainable lives."
START offers services to households where the parent or adult is 54 years or younger. The reason for this is because The Stoughton Senior Center provides support to individuals ages 55 and above. If a household with multiple generations requests help from START, they will get that help, but if the request is more elder-care specific, START will leave that to The Senior Center.
In 2022, START served 163 households. Additionally, of the households that START assisted in January 2023, approximately 90 kids were living in poverty.
"Our goal is to help them thrive, so ideally take them from a position of living in crisis or some type of poverty level, and either increase their income, or prevent them from being evicted or kicked out of their housing," Braund says. "Our goal is to make their lives better and lift them up from the spot that they're in. [It's about] finding out the needs of all of the members of their house and making sure everyone is able to live happy, healthy, sustainable lives."
A POSITIVE OUTLOOK FROM THE STUDENT BODY
Words of advice:
"If it isn't a competition, don't make it one. We are our own worst critics. When we compare ourselves to others it diminishes our own self-esteem, and at the end of the day, it's better to appreciate how much progress we have made than to tell yourself it isn't enough."
"Get a heated blanket."
Bucket list goals:
"Start a summer blog."
"Fly first class on an airplane."
"Jump out of an airplane."
What makes you happy:
"Spending time with my friends outside of school (movies, shopping, eating)."
"My family (mainly my sister) and my friends."
Favorite place:
"Devil's Lake."
"My car – love Jazzy so much."
"Downtown Madison, specifically the terrace."
"Outside, somewhere quiet."
CONCLUSION
As spring is creeping closer, it's truly valuable to focus on the little things. The end of the school year is approaching and the winter season is melting away. Take the time to really soak up the goodness that's all around you. Plant some seeds, give to a local charity, volunteer at an animal shelter, or better yet, open your home to a new furry friend. Look on the bright side of a new beginning. It's living for the little things that counts.
About the Contributors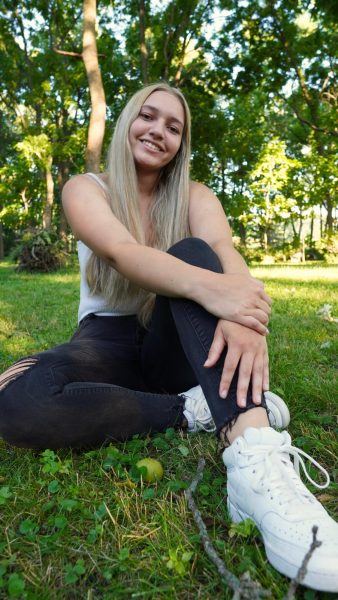 Bella Patrinos, Staff Writer, and Business Manager
Bella is a senior; this is her second year on staff! She's a staff writer and the business manager for the publication. She joined the Norse Star because...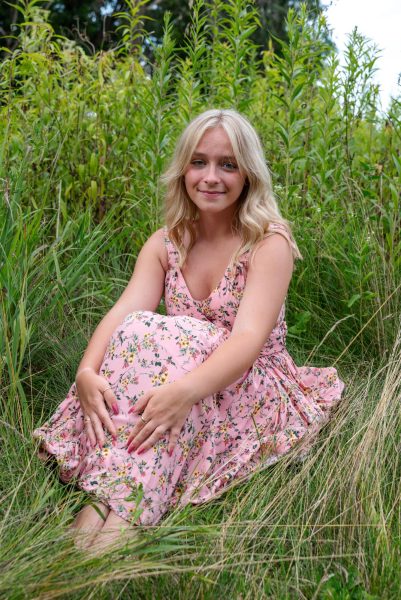 Raegan Peterson, Staff Writer, and Copy Editor
Reagan is a senior, and this is her second year on staff! She's the copy editor and a staff writer. She joined the Norse Star because she was told by her...