Bake a Butter Day
Potentially, you, the reader, are hungry and have a spare one cup of frozen raspberries sprinkled with flour lying around. Perhaps you've even been meaning to figure out what to do with that one cup of raspberries sprinkled with flour. Well, if you're also hungry for a treat in particular—and thirst for new knowledge about delicious confections to become household desserts—you should check out these sweet recipes from some of the Norse Star staff!
White Chocolate Raspberry Scones – from Madeline Monthie
Ingredients:
2 ½ cups of flour (+1 tablespoon to coat the raspberries in)

½ cup of granulated sugar

¾ teaspoon of salt

1 tablespoon of baking powder

½ cup of cold butter (grated)

4 ounces of white chocolate

2 large eggs

1 teaspoon of almond extract

⅔ cup of heavy whipping cream

1 cup of frozen raspberries, sprinkled with flour
Instructions:
Combine the raspberries and 1 tablespoon of flour. Place in the freezer until needed.

Grate butter.

Mix together flour, sugar, salt, and baking powder.

Work in grated butter into the mixture with a fork.

Add in white chocolate.

In a separate bowl, whisk together the eggs, almond extract, and heavy whipping cream.

Add liquid ingredients to dry ingredients until the dough holds together.

Gently mix in the frozen raspberries.

Place scones on a baking pan. Then place the pan of scones in the freezer for 30-60 minutes.

Preheat the oven to 425 degrees and, once oven is preheated, bake scones for 18-25 minutes.
Cherry Delight – from Raegan Peterson
Ingredients:
1 ¼ cups of graham cracker crumbs
3 tablespoons of sugar
⅓ cups of butter (melted)
1 cup of powdered sugar
1 can of cherry pie filling
1 8 oz. Cool Whip
1 8 oz. cream cheese (softened)
Instructions:
Combine crumbs and sugar.
Stir in butter until thoroughly blended.
Pack mixture firmly into an 8×8 pan.
Mix cool whip, cream cheese and powdered sugar. Spread on top with pie filling.
Refrigerate.
Oreo Cookie Torte – from Naomi Matthiesen
Ingredients:
1 pack of Oreos (15 oz.)

1 cup of powdered sugar

½ cup of melted butter

2 12 oz. of cool whip

1 8 oz. of cream cheese

1 6 oz. of instant chocolate pudding
Instructions:
Crush Oreo cookies and mix with melted butter.

Pat in 9×13 pan.

Save some crumbs for a top coat.

Mix cream cheese and sugar.

Blend in Cool Whip.

Spread mixture over crust.

Mix pudding according to package.

Spread pudding over previous layer.

Let pudding sit for 15-30 minutes to avoid smearing of next layer.

Top with a second layer of Cool Whip.

Garnish with the rest of the crumbs.

Refrigerate after serving.
About the Contributor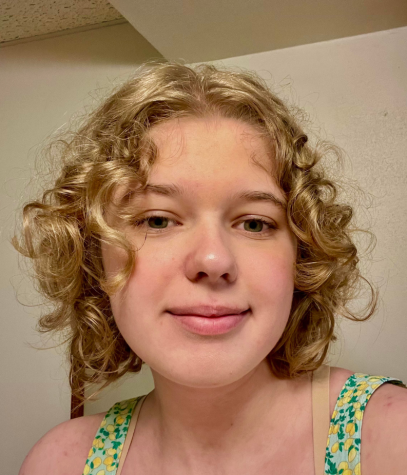 Naomi Matthiesen, Staff Writer
She is a sophomore and a staff writer, with this being her first year on staff. in her free time, she enjoys drawing, writing, and embroidery. In the future,...