From the Classroom to the Newsroom: A Lifetime of Learning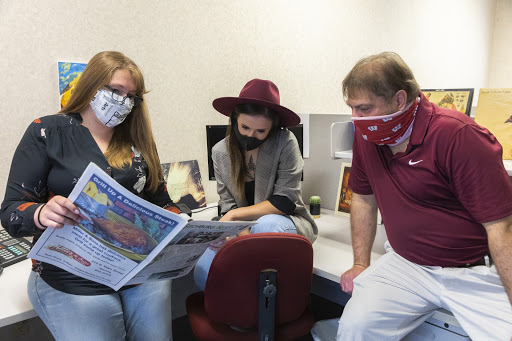 Greta Nashold, Editor-in-Chief and Opinions Editor
December 17, 2020
When you're scolded for spending time writing stories in class instead of focusing on content, you're destined to be a writer. At least that's how it was for Kimberly Wethal, a SHS graduate and current reporter for the Unified Newspaper Group.
Wethal graduated from Stoughton High School in 2014, after writing for The Norse Star for two years and quickly realizing that she was passionate about journalism. Not only is she a news reporter for the Stoughton Courier Hub, but she also writes for the Oregon Observer, the Verona Press, and the Fitchburg Star. You've probably seen her downtown or read her articles in the Hub, if you haven't otherwise seen her photographing dozens of seniors each year.
An extrovert from the start, Wethal fell in love with interacting with people throughout the journalistic world.
"I got on [The Norse Star] and I fell in love with storytelling and talking to people. I'm very extroverted, so the job really fits my personality. I wanted to get into photography before then, but The Norse Star gave me the opportunity to be a photojournalist. That meant I could take every element of the story and do it myself, [and that] was a real source of pride for me," Wethal says.
Wethal also discussed the relationship between her time as a student journalist and becoming a professional journalist.
"It is a requirement for my job to understand how tax bills are mailed out, different municipal codes–all these nerdy aspects of government that no one stops to think about–I have to be on top of it. It's those niche things that I'm required to know. My audience is older, and they expect a certain level of professionalism from me," Wethal says.
However, she also doesn't intend to discredit student journalists–all journalists are journalists after all–and notes that student journalism is supposed to be a place for students to learn and have fun while still practicing the fundamentals of intense journalism.
With experience in both student journalism and professional journalism, Wethal also provides advice for young journalists or anyone curious about the process in general. She encourages everyone to find a journalist or publication that they trust, which includes finding a source that doesn't always publish information that supports your own opinion.
"Don't always find a publication that will feed just into what you want to hear – it's not like that. Agreeing with every single thing in your brain is not a good sign. Also pay attention to what is considered opinion and what is considered news reporting. A big challenge for reporting is people distinguishing what is opinion reporting and what is news reporting. […] Getting to know the difference of those two things is really important," Wethal adds.
Not only does she focus her time editing through articles and covering information, but Wethal also runs a photography business, Kimberly Marie Photography, on the side. The two go hand-in-hand, a combination of skills that enables Wethal to be the best journalist she can be. Developing a range of skills is beneficial, especially in journalism.
"Be good enough to be versatile. You know, journalism is basically like being in school for the rest of your life. One of the best parts of journalism is getting to learn, and it makes it easier to learn if you pick a few specialties that you're really good at within journalism, because that will make you so much more valuable. And the better you are, whether you're going into journalism or not, the more adaptable you'll be in the real world," Wethal says.
Along with versatility, the role of a journalist is crucial. "It's my job to keep people informed. If [the city is] going to make you pay for a sidewalk, I want you to know that so that people have the opportunity to weigh in. Some decisions aren't quite as important, but that's up for the reader to decide. I want people to be informed, to know what is happening in their community. I want them to know what their neighbors are doing. My role in the community is someone who wants to make sure that you have every bit of information as possible at your fingertips," Wethal says.