Moving Forward in a New World
How one year changed the world, and a small town in Wisconsin
The Beginning: 
March 12, 2020 was like any normal day at Stoughton High School. The students had their classes, ate lunch with their friends, and some finished with extracurriculars after the school day was complete. That day, students left the building without knowing that it would be the last time they would experience normalcy for the foreseeable future. 
A two-week extension of spring break turned into a month, and then another, until eventually it was official that the last weeks of the 2019-20 school year would be spent online. For the 2020 senior class, their last weeks of high school would be spent on a computer screen. Those students went on to graduate and finish their long-awaited senior year in their bedrooms. 
Over the course of this past year, America has undergone a pandemic that has claimed the lives of over 500,000 people, extreme political and racial division, and more. March 2021 marks the one year anniversary of when America and its citizens left the world they once knew behind and entered a very uncertain one. 
National Timeline of Major Events in 2020:
March: 
While COVID-19 entered the USA in February, it started to pick up heavily in the first week of March. By March 8,  there were already 521 confirmed cases of the virus with 21 deaths. A few days following on March 11, The World Health Organization declared a pandemic.  Former President Donald Trump soon after banned travel in the USA to and from over 25 European countries, leaving many travelers stranded and quarantined in unfamiliar territories. 
A national state of emergency was declared, and schools and many businesses across the country were shut down. Stay-at-home orders were issued in 42 states, social distancing was put in place, and face coverings were starting to be worn to slow the spread of the virus. By March 31, over 150,000 people in the USA had tested positive for the virus, and there were nearly 3,000 deaths from the virus. 
April-May: 
As case numbers of COVID showed no signs of slowing down, the numbers of unemployment soared. Former President Trump stopped funding for the World Health Organization, as he claimed it was "China Centric." The country entered May with cases spiraling out of control, leaving citizens with no clue of what was to come. But even with the virus, other tensions were rising across the nation.
 On May 25, African American citizen George Floyd was murdered by Minnesota police officer Derek Chauvin. The murder was caught in a video that received national and worldwide attention. Protests and riots started to erupt across the country to fight police brutality and systemic racism.  Citizens made sure that one thing was certain: their voices would be heard. 
June-August:
Protests roared on throughout the summer supporting the Black Lives Matter movement and political tensions were starting to rise. Political campaigns and social media battles headlined news stations across the country. Citizens were looking for who their next leader would be. There still seemed to be no answer for covid in America, as by the end of the summer, US cases had surpassed 6 million and were up to 183,000 deaths. 
September -December:  
As the summer wound down and fall approached, schools across the nation started making the decision whether to start the new school year in person or online. Some schools stayed virtual and some made the leap to try and bring kids back for in-person learning, depending on their county or state guidelines. 
America was also in the middle of a serious mental health epidemic. A study done by the CDC [Center for Disease Control and Prevention] found that over two in five people are experiencing anxiety, depression, or some sort of trauma from the pandemic. The presidential race continued between Democratic candidate Joe Biden and Republican candidate Donald Trump. 
After months of more Twitter battles, claims of election fraud, and the recounting of millions of votes, Joe Biden was elected to be the next president of the United States. Kamala Harris made history by being the first female vice president in office. On December 14, the first COVID-19 vaccine was given publicly for the first time, giving a glimmer of hope for the future. 
A Historic Year In Small Town Wisconsin: 
Stoughton, Wisc, has just 13,000 people, yet the citizens of the town have felt the effects of the pandemic head-on. 
 In the first weeks of quarantine, many small businesses were forced to close and even resulted in the permanent loss of some. One of the major closings during the initial lockdown included the town's movie theater that operated in Stoughton for over 30 years.  Citizens were at first asked to stay at home unless they were leaving for essential items to ensure the safety of others. 
Stoughton Schools were the first buildings in Stoughton to be shut down. The high school had its last day of in-person instruction on March 12, and staff had their last day in the building on March 13. High school students would go on to retrieve materials, books, clothes, and other items from the school on March 17. It would be the last time students were allowed in the building for the rest of the school year. 
Mike Kruse, principal at SHS, and his team of administrators, immediately started working out the next steps. 
¨The first thing that came to mind was that we needed to get a systematic approach in place that moved the teaching and learning forward,¨ Kruse says.
For students, this meant doing assignments via Schoology, a virtual learning environment. 
Kruse worked closely with associate principals, Dana Schoemer and Liz Hrodey, to build a plan that kept the learning in a positive direction, but also created the best opportunities for seniors to graduate and move on to the next level. 
Schoemer discussed the hardest part of the whole process. 
¨It was hard to watch students struggle and not be able to have them in front of us to help them either academically or emotionally if they would not connect with us virtually in any way," Schoemer says.
Kruse mentions the main thing he is looking for from students and staff as things move forward. 
¨Be kind to each other. Everybody is going through different things. We need to work together and listen to one another. Students just need to do their best," Kruse says.
The virtual experience has been different for many students. Some students have thrived and others have struggled more than ever before. In a survey conducted by the Norse Star, two students shared their experiences of how virtual learning and the pandemic affected them and also helped them grow. 
Junior Brooke Thrall discussed the most difficult part of her experience. 
¨I was never a procrastinator before [virtual schooling] and now I'm always doing work the day before it's due. Now that I'm hybrid, I find it hard to be productive in class. I usually end up having lots of work to do after my in school days,¨ she says.
Like many others, she has seen herself change over this past year. 
¨ I understand and recognize myself more than I ever have, which I think brought on a lot of change,¨ Thrall says. 
The other student that responded to the survey chose to remain anonymous. They discussed how their virtual experience helped them grow as a student. 
¨I was really struggling in school up until the lockdown last March. I felt extremely overwhelmed and got nothing done. Being virtual allowed me to take a step back and breathe. I was able to focus much better and put more effort into my assignments,¨ they said. 
The student also discussed the lows of their experience. 
¨I definitely have developed some bad habits. I have a tendency to rely on notes and resources to complete tests and assignments.¨ 
The high school resumed in person hybrid learning on February 8, 2021. Last names A-L and M-Z attend in person together one day and do virtual schooling the next. 
There are currently talks of returning to full in person schooling (five days a week) as early as mid April. During the first months of quarantine, many small businesses in Dane County and across the state were forced to shut down or completely change their work environment. Some businesses suffered greatly and some ended up flourishing. 
Tech Enterprises is a family-owned stain removal manufacturing company owned by Stoughton resident Scott Newman. His son, Jaece Newman is the production supervisor for Tech Enterprises. His job is to oversee production and make sure that things are being manufactured efficiently and correctly. 
In an interview, Newman [Jaece] shared the ups and downs of running a small business during a pandemic. 
"Before COVID hit we used to run production lines with multiple people in a group. After COVID hit, we were forced to stay socially distanced, which limited our production process. We had to start doing things separately, which took a lot of extra time and effort."
While the efficiency of work was limited due to restrictions and guidelines, Tech Enterprises was one of the rare businesses that was not financially affected because of COVID. Being a cleaning chemical manufacturer, demand for products at the company increased. 
Newman also shared the greatest challenge of the experience thus far. 
"Due to the slowing of the production and manufacturing process,  it was extremely difficult to get products out the door and to the public." 
Things in Stoughton have since resumed at nearly full steam. Local businesses, restaurants, gyms, and other public buildings have reopened with the exceptions of a few places, including the public library. Masks are still being mandated throughout the county and citizens are asked to social distance when and if possible. 
The COVID-19 pandemic, protests, and political campaigns are the national headlines of this past year in America. In a small town like Stoughton, Wisc, the effects of this past year are still more prominent than ever. Life has changed greatly from last March until now. Whether that be the new ways that people live, travel, and interact with one another, things aren't the same as they once were. As vaccines and different solutions for the virus are being provided across the country, there is seemingly a glimmer of normalcy in the near future. 
About the Contributor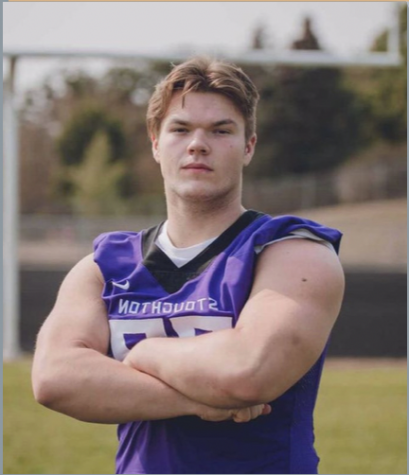 Gabe Rousseau, Sports Editor
Senior Gabe Rousseau is the Norse Stars sports editor. Gabe appreciates how Norse Star has allowed him to meet new people and get outside of his comfort...