Serving Pancakes and Opportunities
A look into the story of Pancake Cafe Owner Drew Ghelfi and the business that keeps giving
When Pancake Cafe came to Stoughton in 2018, it seemed to be your typical breakfast restaurant. And for two years, it was just that. Garnering a reputation for poor service, food quality, and more; by winter of 2020 it was time for a change. Nearly two years later that reputation has completely shifted. From improving to a 4.1 star restaurant rating on Google, to running a food drive during the early stages of the pandemic, to being involved with various local fundraisers and youth programs, Pancake Cafe has developed a strong and dependable reputation within the Stoughton community. The question is, who are the people that could be responsible for such a drastic change in just a short amount of time?
The answer to that question starts with the restaurant's owner, Drew Ghelfi. Standing 5'4 in stature, with a head of curly dark hair, and an infectious smile, he and his staff have brought a new and positive energy to Stoughton. While Ghelfi's title and primary duties are being the owner of Pancake Cafe, he knows that his purpose and goals for the restaurant go much further than just the kitchen.
"I'm somebody who focuses on providing value and impact in every room I'm in. I'm somebody that truly believes in building and developing character [and] relationships. I'm all about empowering other people," Ghelfi says.
Since taking over as the owner, he has done just that. Although, the journey to get to this point was anything but easy.
Ghelfi was born in Madison, Wisconsin in the late 1980s and has lived there ever since, with the exception of a two year stint in Janesville during his middle school years. Ghelfi was an only child raised by his single mother. Without a father figure and true role model in his life, Ghelfi was left to figure out a lot of things for himself, including creating his own path. Growing up, he spent his time going to school, hanging out with friends, playing football and basketball, and other activities that your typical kid would do. After moving back from Janesville in 7th grade, he finished middle school in Madison where he then attended Madison East High School. At first glance, Ghelfi may have seemed to be an ordinary high school student. In reality, his teenage years were far from ordinary.
"I had my first daughter eight days before my 16th birthday; I had my son before I was 19. Going into my college years, I was working three or four jobs. It was school, go to work, then see the baby. There was a lot of sacrifice," he says.
After graduating high school, Ghelfi made the decision to attend MATC to study marketing. These college years proved to be challenging for Ghelfi.
¨I wasn't happy at all. I was masking my pain, my inner traumas by being in school 20 hours a week. 120 hours a week, I was occupying my time filling voids, and then […] eight hours on a Sunday I'd spend with my kids," Ghelfi says. "All of my values were just significantly messed up. My priorities were not congruent with who I was.¨
This went on for six years. It was then when he decided there needed to be changes made in his life.
¨Probably about 10 years ago, I made a decision to become happy and to be more aligned with my values, and I made a decision that every decision going forward will be based on my values and based on my beliefs. I wouldn't accept negative energy or negative people or people that want me to come out and drink and do this and do that. I valued confidence and respect and integrity and empowerment. All these things that led me to who I am today,¨ he says.
While, at the time, there wasn't a clear path to where all of this would lead him, he knew he was taking steps into the right direction.
Ghelfi's journey into the restaurant industry wasn't overnight. He started at a place called Bonefish Grill in Madison back in 2016 and worked there until 2019.
"I was a group and event manager, dining manager, kitchen manager, bar manager," Ghelfi says. "You name it, I did it."
Along the way, Ghelfi says it wasn't the job itself that gave him the inspiration to take over his own business, it was one of his close friends and mentors that pushed him in that direction.
"I had an incredible mentor by the name of Chef Rod Ladson. He was a father to me. He was a friend to me. He was somebody that taught me for-profit business. He was someone that taught me, not for profit business. He was somebody that really inspired me to truly get a firm belief and understanding of what a relationship is," he says.
It was after a teacher appreciation event that Chef Rod and Bonefish Grill hosted where Drew learned the impact of giving back to others.
"We raffled off teacher appreciation bags. We had kids there talking about why they appreciate their favorite teachers. It was amazing. I didn't realize how powerful that event was until it concluded. I felt so fulfilled. I told [Chef Rod], 'I know my calling. I want to empower people. This is it.' And he taught me how to do that," Ghelfi says.
Chef Rod passed away July 13, 2018. Ghelfi mentioned how the impact of his death changed him and pushed him to take the next step in his journey.
"I remember like it was yesterday, and it broke me, crushed me, and shattered me […] A year after his passing, I left Bonefish Grill. I made the decision and I said, 'Hey, I'm going to have an investment team. I'm going to either create a business or take over a failing business, and I'm going to rebuild the brand. I'm going to empower the community that we're in because we're going to be valuable and impactful to others,'" Ghelfi says.
Then, in early 2020, a year after leaving Bonefish Grill, Ghelfi got his chance. Stoughton's Pancake Cafe was looking for new ownership. Having experience working at the Madison Pancake Cafe location, Ghelfi was able to use his connections to land himself the opportunity.
"[The previous owners] were either going to close the restaurant or sell it, and I was like, 'I'm in,' so I brought my Sicilian and Mexican behind out here to Stoughton," Ghelfi says.
On Feb. 1, 2020, Ghelfi's journey as a restaurant owner began. Very quickly after taking over, Ghelfi was faced with the challenges that being a small business owner brings.
"It just so happens that six weeks after we took over the restaurant, there was a global pandemic, and, to say the least, it kind of impacted my financial planning. Not paying yourself for 20 consecutive months was pretty detrimental," he says.
During the early stages of the pandemic, when all small businesses and restaurants were forced to close in Stoughton, Ghelfi started to wonder how he could make an impact.
"The pandemic had just started, and I remember calling up [my friend] Tiffany like, 'How can I be valuable and impactful and use the platform that I have to help other people? No one is coming to the restaurant. People don't want to go into stores. What if I ran like some type of food pantry,'" Ghelfi says.
The only problem was, Ghelfi wasn't quite sure who he could do it with. He wanted to partner with someone that had a positive voice in the community and already had the platform to be impactful. Then, a friend of his recommended Jimmy Brooks at Primal Strength and Fitness. Brooks had started handing out sack lunches in brown paper bags out to families that needed it, and Ghelfi was immediately hooked.
¨I was like, man, [Brooks] is such a wonderful human being, and he's like me. I'm like, 'let's do it,'¨ he says.
Ghelfi set up a meeting with Brooks and their partnership began. The pantry was set up outside the front door of Primal Strength and Fitness. There was a shelf for various crackers and snacks, and coolers full of sack lunches. Ghelfi and his staff would get to the restaurant as early as 3:00 a.m to prepare fresh sandwiches and other meals for the day. After only a short period of time, the pantry became something much bigger than Ghelfi and Brooks could have ever imagined.
"We just kept growing and evolving. We got some different sponsorships from local community members. More people were giving. The more people gave, the more we did. You know, we ended up being on CBS channel 3000. I'm like, 'we have the funds to take care of 5,000 people,'" he says.
At the same time, Ghelfi and Brooks partnered with other sponsors to provide over one hundred breakfasts for medical staff and first responders. The pantry ended up lasting up until the original stay at home order ended on May 26, 2020. In total, the pantry fed over 2,000 families during its two month span.
The food pantry was just the beginning. Since then, Ghelfi and Pancake Cafe have gone on to partner with different programs and businesses to do as much as they can for the community. At a recent event, Pancake Cafe partnered with six nonprofit organizations and a dozen businesses to raise money for programs that needed it. The event sold brats, hot dogs, had a face painter, bouncy houses, and an obstacle course, and turned out to be a success. In total, the event was able to raise over $6,000 to donate to various organizations.
Ghelfi says that on Dec. 18, 2021, Pancake Cafe will be hosting an event for kids to connect with one another and come together during the holiday season.
"We also just partnered with Toys For Tots, United Way, START, and Back 2 Basics, to host a Santa's Workshop. We are calling it Kids Shop for Kids.There will be pictures with Mr and Mrs Clause, a gift wrapping station, DIY Hot Chocolate, [and] kids will choose toys to give to other kids." The event is open to any children and families that wish to attend.
As for future plans, Ghelfi says that he is focusing on building positive relationships with the youth in the community and continuing to be a leader for others.
¨No matter what's going on, we're going to be valuable and impactful. It doesn't matter your race, color, creed, or wealth. It's just who we are," he says.
While Ghelfi may lead, he takes a ton of pride in his staff and all they do to make things possible. One of these people is Shellie Bilodeau, who is a team lead and manager at Pancake Cafe. She started working there in December 2020 and has risen through the ranks quickly to earn the positions she has now. Things weren't always easy, though.
"When I first started, I really had issues with my anxiety. It was causing issues with me getting tables, and I would get overwhelmed very easily. Drew would coach me and coach me and coach me. There were many times he just wanted to be like, 'Shelley, I'm sorry, this isn't working for us. [We] are going to have to let you go,' but he saw something in me that I didn't even see, and I'm glad that he did. […] One day something snapped, and it's been up ever since," Bilodeau says.
Bilodeau says that it is the atmosphere that has made things so enjoyable during her time there.
"It is a super positive environment. I get along well with everybody. I actually love all the teenagers that work there. I treat them like my own kids. I feel that if they need to talk to me, they're able to be open and talk to me about anything. It doesn't have to be work-related. It could be about their life or anything personal. I'm there for them," Bilodeau says.
Bilodeau mentions that her goals are to continue improving at her position and to work towards making the customer experience as good as possible.
Ghelfi says that Bilodeau is his right hand woman, and their partnership is one that he is extremely proud of.
Kyanna Williamson is a Junior at Stoughton High School and is also a cook at Pancake Cafe. She started there in spring of 2020 and has done various jobs from hosting, to waitressing, and now to cooking throughout her time there. Williamson mentions that from the get go, it was a very inclusive environment.
"Right away, it became a second home for me. We're all so involved with each other. We all hang out together, it's like [working with] friends rather than just people that I work with. From the start it was very loving," Williamson says.
With the positive environment comes a lot of busy days, Williamson says.
"It's a very fast paced [job]. It goes from zero to one hundred, then back down to thirty, then back up to one hundred really really fast. Lots of moving around," she says.
She says that Ghelfi uses a go get it attitude to push her and the other workers to be at their best.
"[Ghelfi] is very much like, 'You got it? Go! Run with it,' but if he were to see you start to sink, he would make sure you don't," she says.
While it has taken years of hard work and setbacks to get to where he is now, all of it has allowed Ghelfi to get to a place where he can use his values, beliefs, and cooking skills to inspire and create better opportunities for others. He says that the combination of himself and the people around him are what will allow the restaurant to reach new heights.
"I strongly believe if you want to run fast, you run by yourself. If you want to run far, you run with the team," Ghelfi says.
As the business continues to grow, Ghelfi says that the business will continue to do more and more for the community and make as much of an impact as possible. More than anything, he is excited for one thing in particular.
"I'm just excited to be able to provide opportunity for everybody that we work with."
About the Contributor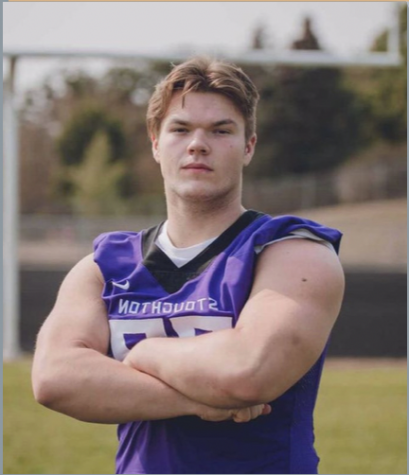 Gabe Rousseau, Sports Editor
Senior Gabe Rousseau is the Norse Stars sports editor. Gabe appreciates how Norse Star has allowed him to meet new people and get outside of his comfort...