New Beginnings
New teachers at SHS share their perspectives on virtual learning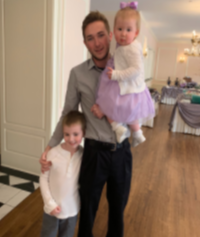 This year is completely new for everyone, but especially for those new to the building. Stoughton High School welcomes Austin Hankins, the government and women's studies student teacher for Mrs. Mullen, as well as old faces from River Bluff, like Kelly Tway, the health teacher, and Allison Forree, the Spanish level one teacher. While this year is proving to be more of a challenge with virtual limitations, all three of them are excited to get to know their students and explore their careers at the high school.
 Tway, former physical education and health teacher at River Bluff, is especially ready for a new experience.
   "I felt ready for the change. I am really excited to work with older students and also be able to focus on [teaching] health," she says. "It has really grown to be the thing I'm most passionate about." 
  Tway's number one goal is that students learn how to be happy and healthy.
 Forree, who now teaches Spanish level one at SHS, also still balances her job with middle schoolers at River
Bluff, as well as a position as an EMT. 
  She brings experience  from teaching from two different states and two different countries, including South Korea, where she taught English to kindergarteners. She hopes to teach her students to be risk takers and to branch out. So far, she's enjoyed her experience here.    
  "I'm actually really looking forward to working with highschoolers. You guys are so much more mature. Everyone shows up on time or, you know, gets the homework done," she says.
   Hankins brings his own story to SHS. A future graduate of UW Whitewater and history enthusiast, Hankins hopes to learn all that he can here in Stoughton. 
   "I talked with Mrs. Mullen…and I 100% wanted to come [here]. I think it's a great school district," he says. "I'm extremely grateful to learn from some of the best teachers [and students] around." 
   Hankins hopes to teach us how to have hard but necessary conversations in order to understand the different perspectives in our government.
  One commonality these three teachers share is the desire to make the most of their virtual classrooms. 
 "It feels really weird to be talking through a screen when so much of the material [for health class] is personal and can be difficult or heavy information," Tway says. "[But] it's so great to see people…I'm glad we have these live sessions to be able to see students."
   "I think being virtual allows us to use some technology tools that we might have overlooked in the past […], like jamboard or peardeck [that] make it more interactive," Hankins says. 
  Virtual learning has forever changed the way we think about school. 
  "From now on, we will [most likely]  have more virtual elements. For example, we can probably kiss snow days goodbye," Forree says.
  Hankins, Forree, and Tway are welcome at SHS. All three teachers are excited to begin their journey and get to know their students this year, regardless of the circumstances.
  "This time is not easy for anybody," Tway says. "[But] try and stay positive. […] We'll be able to see each other again and it will be even better than before."